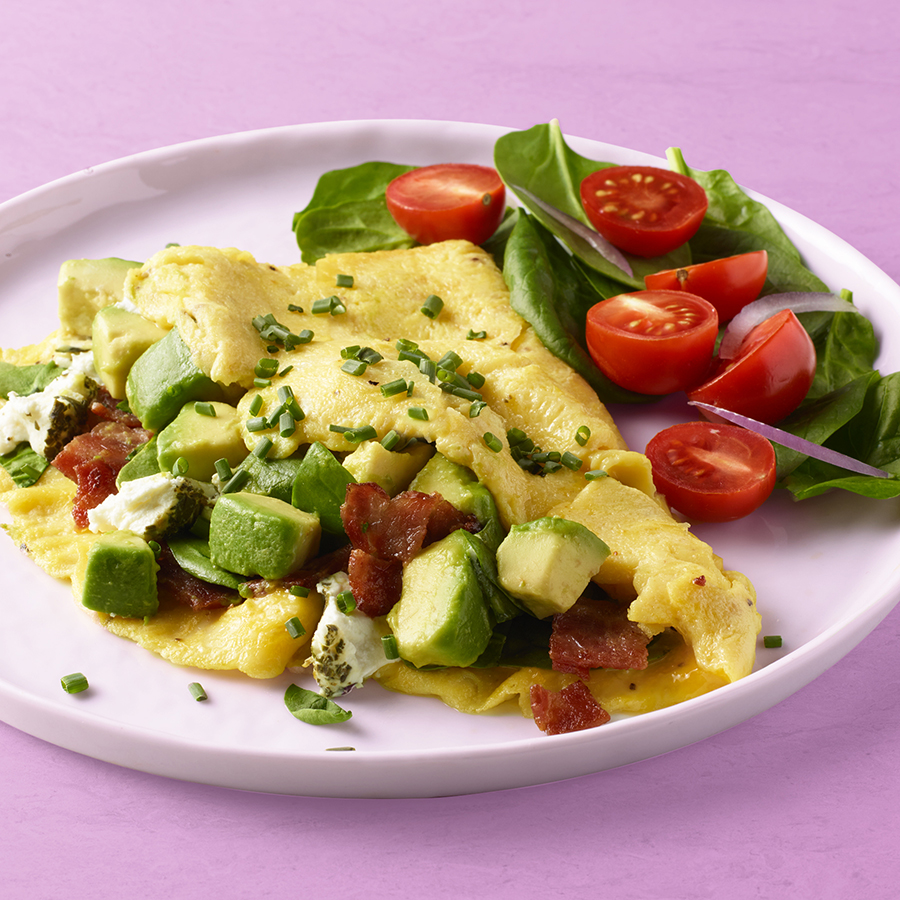 Turkey Bacon, Avocado and Goat Cheese Omelet
Serves 2
Prep Time: 5 MINUTES | Cook Time: 15 MINUTES Total Time: 20 MINUTES
Sometimes the best omelets are made with fridge left overs. Other times, the perfect omelet means perfectly planned ingredients. Up your brunch or breakfast game with this decadent dish.
1 teaspoon butter
1 teaspoon olive oil
4 eggs
4 tablespoons milk
¼ teaspoon garlic powder
¼ teaspoon salt
¼ teaspoon pepper
¼ cup WHOLLY® Diced Avocado
¼ cup herb goat cheese
¼ cup chopped spinach
4 slices turkey bacon, cooked & chopped
1 tablespoon chives, finely chopped
1. In small bowl, whisk eggs, milk, garlic powder, salt and pepper.
2. Heat butter and oil in small pan (with lid).
3. Pour ½ egg mixture into pan and cook with lid until edges begin to set. Gently lift edges of omelet with a spatula and tilt pan to allow uncooked egg mixture to run into bottom of pan. Continue, if needed, as omelet cooks. Cook with lid until the center is set.
4. Carefully add ½ of each – WHOLLY® Diced Avocado, spinach, turkey bacon and cheese.
5. With spatula, lift the edges and then fold the omelet in half.
6. Turn off heat, cover with lid and let set for 1 minute.
7. Repeat process with second half of ingredients for second omelet.
8. Garnish with chives.