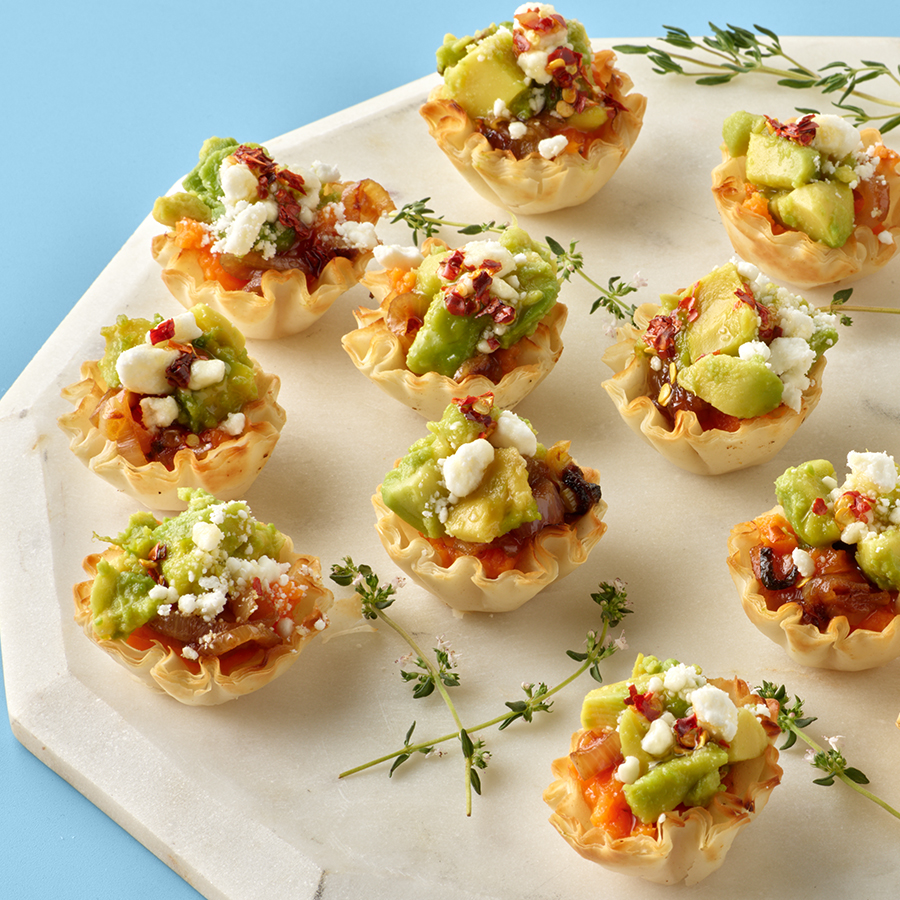 Sweet Potato, Avocado and Goat Cheese Bites
Serves 12
Prep Time: 10 MINUTES | Cook Time: 25 MINUTES Total Time: 35 MINUTES
Wow your guests with this delicious bite-sized appetizer! The flavors of sweet potato, avocado, goat cheese and honey make the perfect combination. These Roasted Sweet Potato & Avocado Bites can be ready in just 35 minutes.
4 sheets phyllo dough, thawed & cut into 36 squares
1 sweet potato, peeled and diced
3 shallots, sliced thin
Salt and pepper
3 tablespoons butter, separated
3-ouncese goat cheese, crumbled
2 tablespoons honey
2 tablespoons olive oil
1 teaspoon red pepper flakes
8-ounces WHOLLY® Diced Avocado
In medium pot, boil sweet potatoes in water for 15 minutes, or until soft. Drain water and mash sweet potatoes until smooth. Add 2 tablespoons butter, salt and pepper.
Add shallots to small saucepan with 1 tablespoon butter, salt and pepper. Cook 10 minutes on medium-low heat.
Grease mini muffin pan and push phyllo dough squares into each spot to create a cup. Spoon 1 tablespoon sweet potato mash and a pinch of shallots into each cup. Bake at 350° for 12-15 minutes, or until dough is cooked through.
While they bake, combine honey, olive oil and chili flakes in small bowl.
Top each cup with about 1/2 tablespoon WHOLLY® Diced Avocado, goat cheese crumbles and a drizzle of the honey chili oil.
NOTE: Keep phyllo dough squares 4 sheets thick.