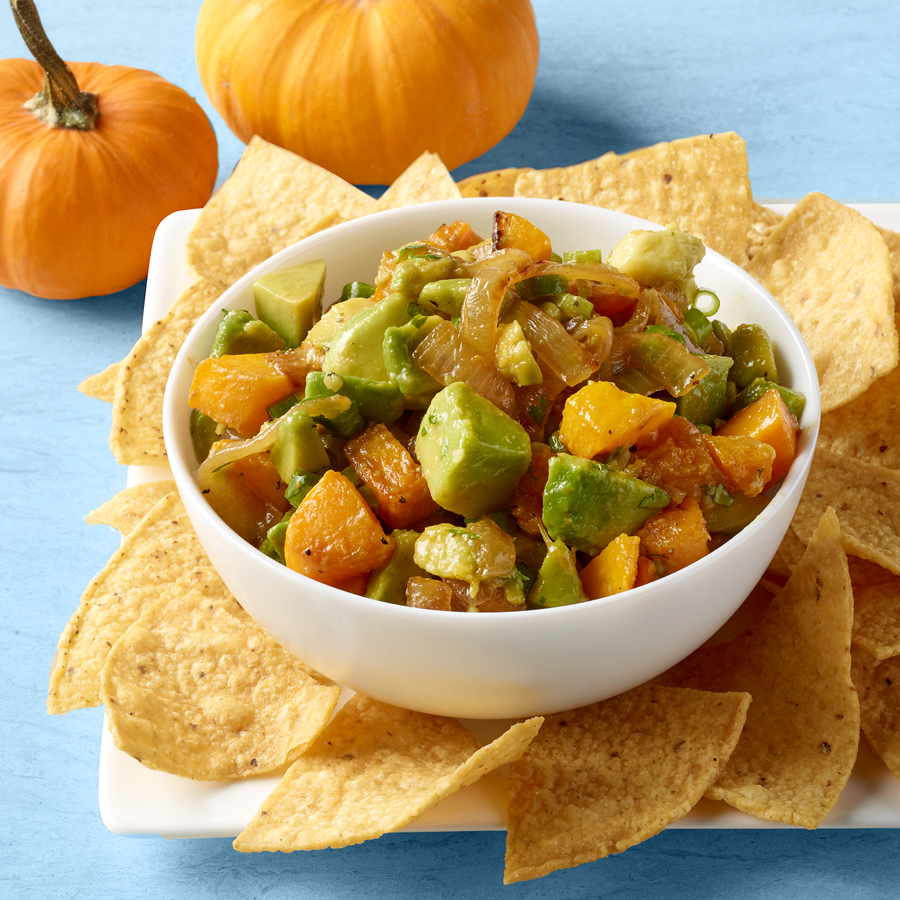 Roasted Pumpkin & Diced Avocado Dip
Serves 4-6
Prep Time: 15 minutes | Cook Time: 25 minutes Total Time: 40 minutes
Scoop up the taste of fall with this delicious roasted pumpkin recipe. Is it a dip or is it guacamole? Whatever you want to call it, you'll be craving sweater weather with every bite.
2 cups 1/2" cubed pumpkin
1 tablespoon olive oil
1 1/4 teaspoon chili powder, separated
1/4 teaspoon cumin
1/4 teaspoon salt
1/4 teaspoon pepper
1 yellow onion, sliced thin
2 tablespoons butter
1 tablespoon sugar
8-ounces WHOLLY® Diced Avocado
3 green onions, chopped
1/2 lime, juiced
1 teaspoon chopped fresh cilantro
1 1/2 teaspoon garlic salt
Serve with tortilla chips
On foil lined sheet pan, toss pumpkin cubes with olive oil, 1/4 teaspoon chili powder, cumin, salt and pepper. Roast at 400° for 20-25 minutes or until edges crisp up (toss halfway).
While pumpkin roasts, add onions, butter and sugar to medium saucepan and cook on medium-low for 15-20 minutes, or until golden and soft.
In medium bowl, combine WHOLLY® Diced Avocado, green onion, lime juice, cilantro, garlic salt and 1 teaspoon chili powder.
Transfer guacamole mixture to new bowl, top with caramelized onions and roasted pumpkin. Serve with tortilla chips.