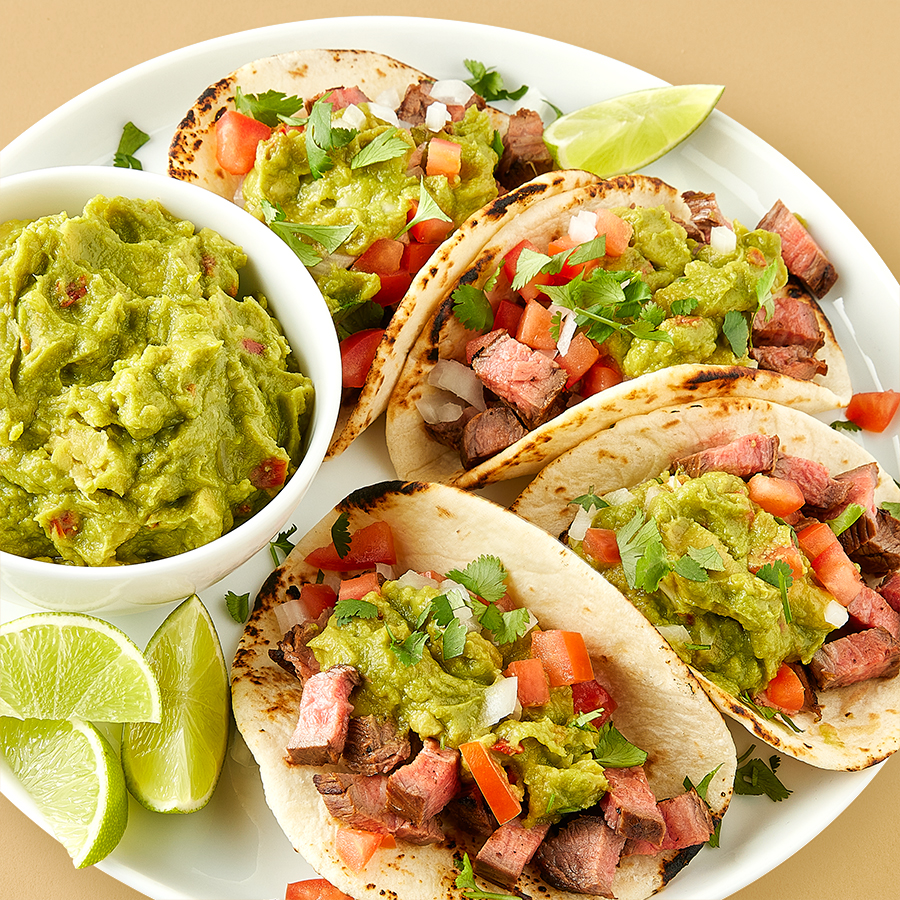 Carne Asada Street Tacos
Serves 4
Prep Time: 10 MINUTES | Cook Time: 2 HOURS 15 MINUTES Total Time: 2 HOURS 25 MINUTES
Taco Night! A citrus, chipotle flavored marinade, combined with simple toppings makes for classic and delicious carne asada street tacos. It's sure to become a weeknight dinner front-runner!
MEAT MARINADE
1-pound hanger steak or flank steak
1/3 cup diced chipotle peppers in adobo sauce
1/4 cup orange juice
2 limes, juiced
2 tablespoons olive oil
1 tablespoon white wine vinegar
1/4 cup chopped cilantro
2 teaspoons garlic powder
1 teaspoon salt
1/2 teaspoon pepper
TACOS
1 tablespoon olive oil
8-10 street taco style tortillas (flour or corn)
7.5-ounces WHOLLY® GUACAMOLE Spicy
1/2 cup diced tomatoes
1/4 cup finely chopped yellow onion
1/4 cup chopped cilantro
2 limes, cut into wedges
In small bowl, combine meat marinade ingredients.
Place meat in large sealable plastic bag and add marinade. Seal bag tightly and shake to coat meat in marinade. Let marinate in refrigerator for 2 hours.
Heat oil in large skillet. Add meat to skillet and cook over medium heat for 6-8 minutes, flipping halfway, or until meat is cooked to desired doneness. Let rest 5 minutes in foil before cutting.
Dice carne asada and build tacos. In each tortilla, add carne asada, WHOLLY® GUACAMOLE Spicy, tomatoes, onion, cilantro and squeeze of lime.