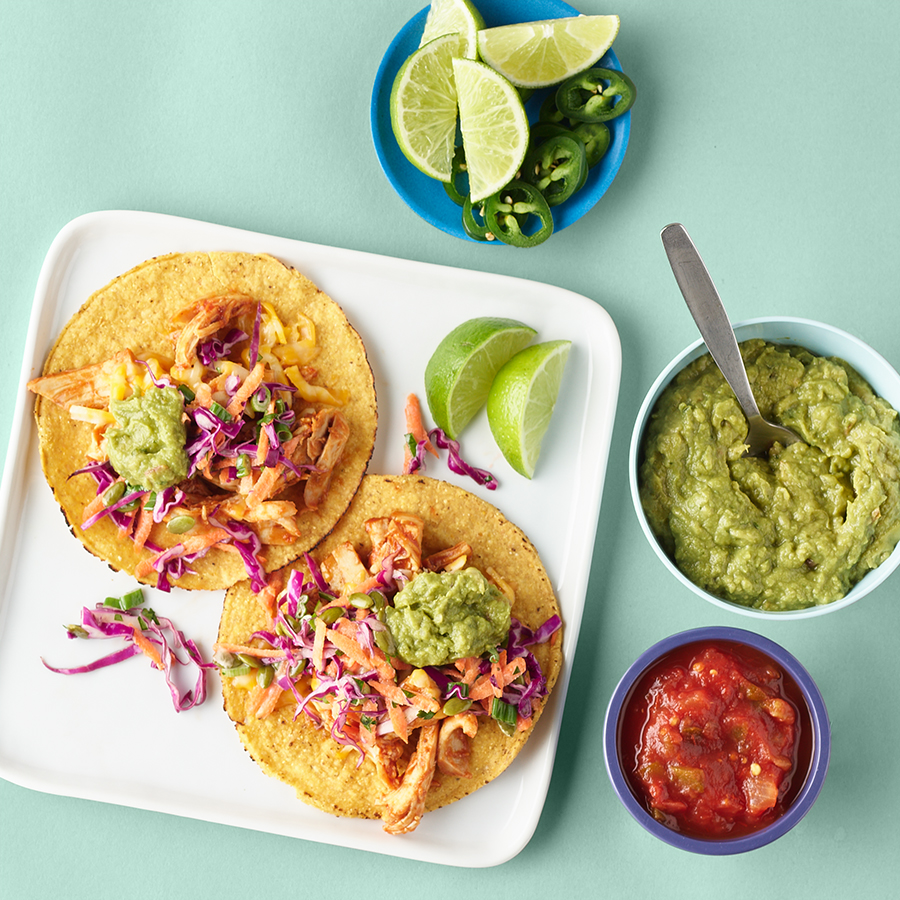 BBQ Chicken Tostadas with WHOLLY® GUACAMOLE Chunky
Serves 6
Prep Time: 15 MINUTES | Cook Time: 10 MINUTES Total Time: 25 MINUTES
Quick swap hint: use seasoned rotisserie chicken or leftover BBQ chicken to make this recipe even more of a snap. Perfect for easy weeknight dinners or to mix up Taco Night!
6 tostadas
2 cups shredded chicken
1/2 teaspoon salt
1/2 teaspoon pepper
1/2 teaspoon garlic powder
3/4 cup barbeque sauce
1 1/2 cups shredded Colby Jack cheese
7.5-ounces WHOLLY® GUACAMOLE Chunky
SLAW
1 cup purple cabbage
1 cup shredded carrots
1/4 cup chopped green onions
3 tablespoons chopped cilantro
2 tablespoons pepita seeds
1 lime, juiced
1/4 cup chipotle mayonnaise
Salt and pepper to taste
In medium bowl, combine slaw ingredients. Set aside.
In separate medium bowl, season chicken with salt, pepper and garlic powder. Add barbeque sauce and combine.
Place tostadas on sheet pan. Add chicken to each tostada, splitting 6 ways.
Add shredded cheese to tostadas.
Bake at 325° for 5-10 minutes or until cheese is melted and chicken is warm.
Spread about 2 tablespoons of WHOLLY® GUACAMOLE Chunky on top of each tostada.
Top each tostada with slaw mixture.