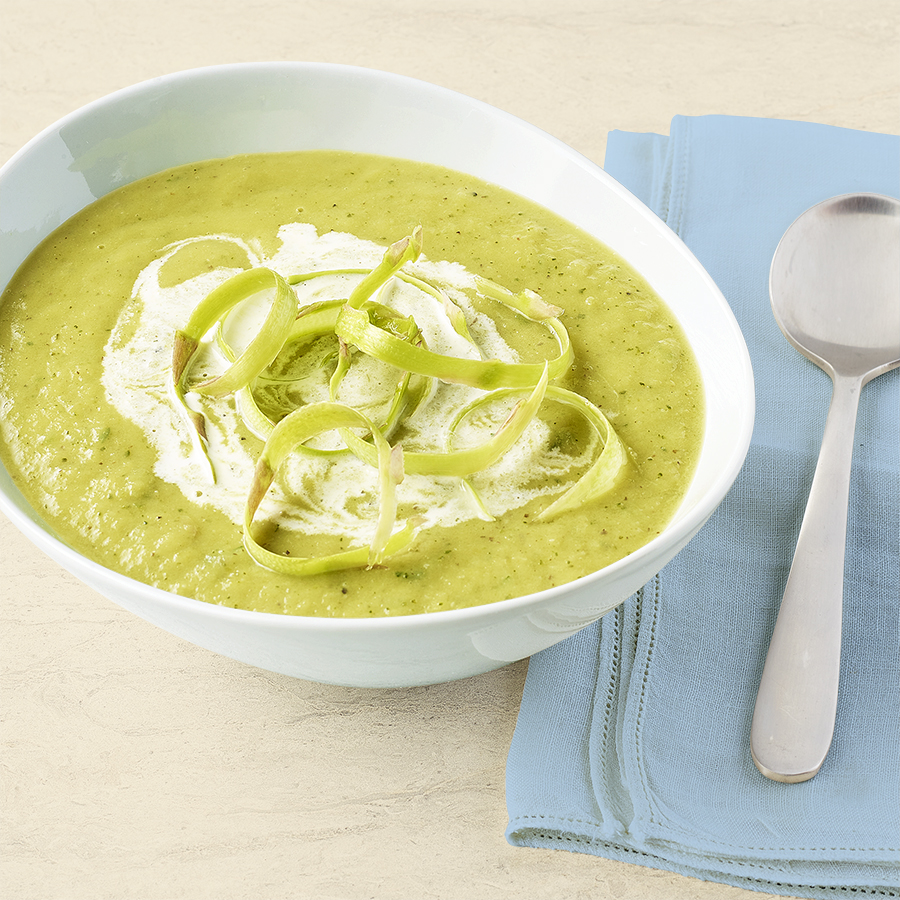 Avocado, Asparagus and Zucchini Soup
Serves 4
Prep Time: 10 MINUTES | Cook Time: 25 MINUTES Total Time: 35 MINUTES
This avocado soup is easy and delicious. The avocado gives it a perfectly creamy texture. A nutritious soup for an easy weeknight dinner!
2 tablespoons butter
1/2 yellow onion, chopped
1 shallot, chopped
5 garlic cloves, minced
2 cups chopped zucchini
2 cups chopped asparagus
1 teaspoon garlic powder
1 teaspoon onion powder
2 teaspoons salt
1/2 teaspoon basil
1/4 teaspoon pepper
3 1/2 cups vegetable stock
8-ounces WHOLLY® Diced Avocado
1 1/2 tablespoons chopped Italian parsley
1/4 cup half and half
1/2 lemon, juiced
GARNISH
Parmesan crisps
Chives, finely chopped
Lemon zest
In large pot, cook butter, onion and shallot on medium-high heat for 3 minutes. Add garlic, cook additional 1-2 minutes.
Stir in zucchini, asparagus and seasonings. Cook 5-8 minutes, or until vegetables are softened.
Add vegetable stock and bring soup to boil. Let boil 1 minute, remove from heat.
Stir in WHOLLY® Diced Avocado and Italian parsley. Let cool 5 minutes.
Transfer to blender and blend until smooth consistency is reached. (blend in batches, if needed)
Transfer back to pot. Stir in half and half, then lemon juice. Salt and pepper to taste.
Reheat over low-medium heat, if needed.
Garnish servings with parmesan crisps, chives and lemon zest.